Rent a Large House in Bariloche
Finally all your family and friends are together again. The house is so beautiful that you don't even want to leave. You just want to stay and enjoy the lake view and the lovely company.
If you are a family, a group of friends or two families who want to enjoy Bariloche together, this house is ideal for you.
This wonderful home was specifically designed to ensure that two families spend unforgettable holidays together. Everyone from grandparents to babies have been absolutely delighted with the house and its hosts. Many have returned. We hope you will too!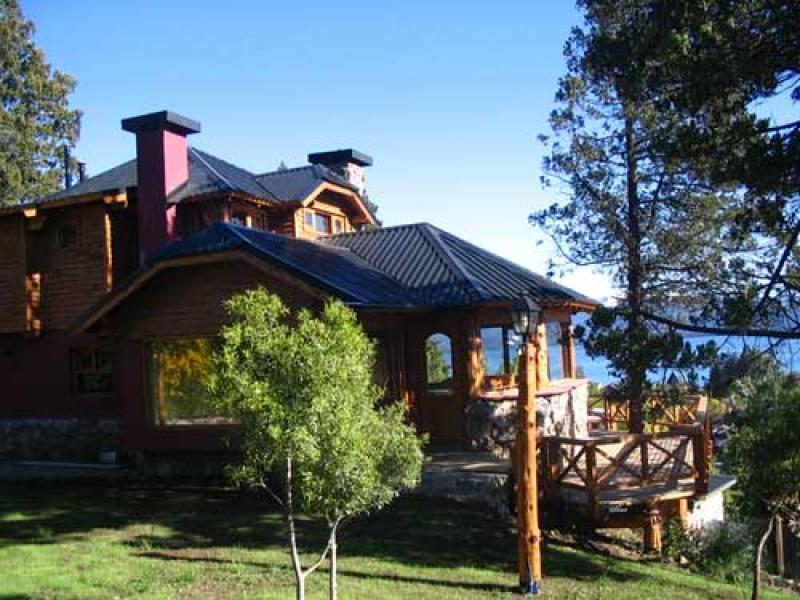 A home for the whole family!
Are you looking for a house with a big heart?
Patagonia Rent a House is a large house in Bariloche that can host up to 10 guests.
It's perfect for a large family or a large group consisting of two families.
There are five bedrooms and eight beds in total. Two bedrooms with double beds, a suite with a bathtub, and two bedrooms with two single beds. There is also a service bedroom with two single beds. Yes, there are rooms for everyone!
Are you fewer guests? I can help!
Click on the button.
If you want to see everything Bariloche has to offer, the location of this house is excellent.
You will be on the hillside of Cerro Otto, 150 meters from Lake Nahuel Huapi, in a large house in Bariloche.
Cypress wood and stone are combined in the interior, giving you a cozy mountain house atmosphere.
It's a house in the mountain, yet near the city center and with easy access to all the activities that you don't want to miss.
Just 5km from downtown Bariloche and its delicious chocolates.
Are you a fan of activities? Here, you'll have easy access to all kinds of mountain activities, water sports, restaurants, tea houses, breweries … Yes, the location is everything!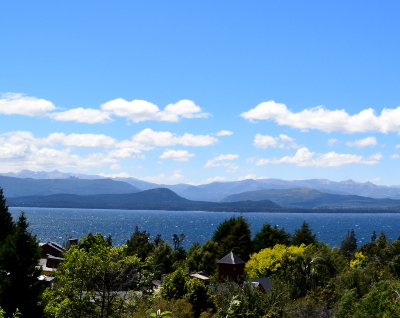 Warning! The lake view will get stuck in your eyes forever.
The sky and the mountains reflected in the lake during the day will leave you speechless.
The moon, the stars, the lake… The night sky will make you fall in love all over again.
Do not miss the opportunity to live in a large house in Bariloche with a breathtaking panoramic view of the Nahuel Huapi Lake and its surrounding mountains.
Every guest we've had has fallen in love with the house and its lake view.
You can enjoy the landscape from the large deck and through the large windows. There are more than 18 linear meters of windows – all of them with thermo panels to make sure the house stays warm and cozy.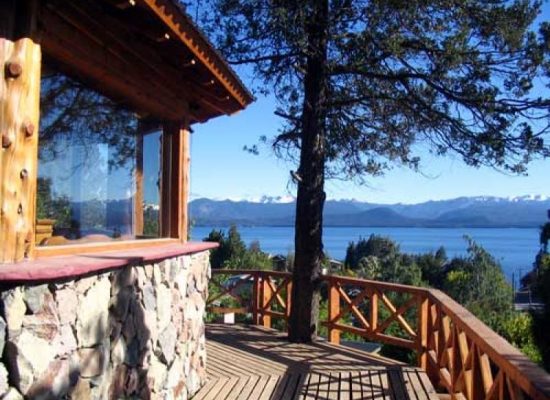 You on the deck and the garden
Take photos, read your favorite book or enjoy a cup of tea.
You will find yourself more than once on the terrace simply enjoying the air, plants and scenery.
How about making a barbeque in the garden? There is a grill in the park with a table and seats for everyone.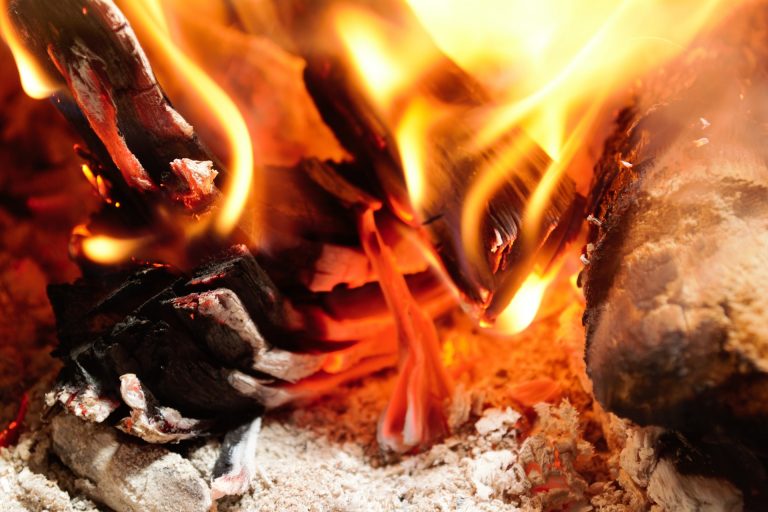 A warm home for a warm heart
One of the most beautiful things after spending a day immersed in nature, is to go home, light a fire and feel the warmth in your heart.
You will spend every sunset of your holiday relaxed in the living room, staring at the beautiful landscape, enjoying the sound of the fire in the background.
The house is heated with underfloor heating which has 8 individual circuits. All rooms have thermal blankets. And the coziest thing of of all; the fires in the stove.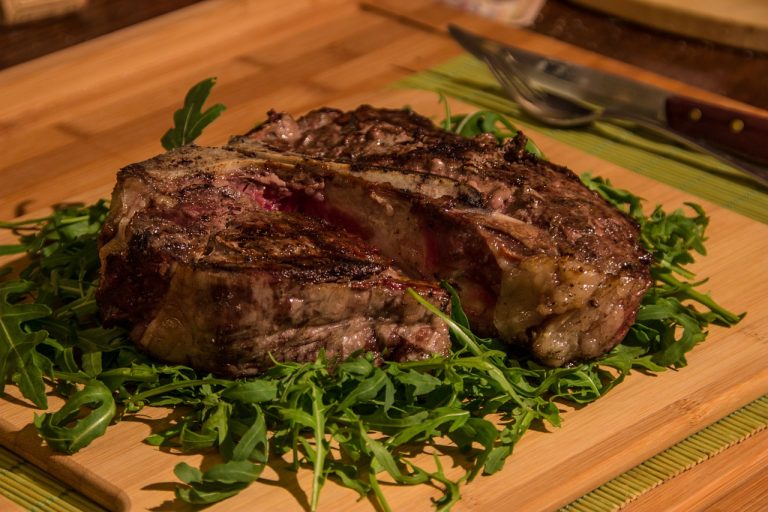 For all you barbecue lovers: A real Argentinean Grill
If you love big, family barbecues, there is a grill deigned for you.
The grill inside the house has a lovely wooden bar. This corner's specialty is to produce family dinners with a movie landscape in the background.
In Bariloche and in this house, you constantly feel like you are in a postcard. It's stunning.
Your hosts; Angelica & Carlos
Angelica y Carlos have been living in Bariloche for more than 30 years. After raising 4 children here and receiving thousands of guests, they know everything they need to do to make you feel like home.

You can count on them making your stay here a real dream.
You'll only have one issue; when to return.
Are you ready to reserve this large house in Bariloche?
"If you are looking for a place to have a very lovely stay in Bariloche, feel like home and have all the necessities... this is the HOUSE you need. All the rooms are super comfortable. It's an excellent place to be with all your friends or family. Both Angelica and Carlos were always there to help us and advice us with things regarding the city. Best of ALL, the view!!! Wherever you are in the house, there is a panoramic view of the lake and mountains." This is one of the wonderful comments about us on Airbnb. ❤
Capacity: 10 guests
Bedrooms: 5
Beds: 8
2 double bedrooms (1 en suite con hidromasaje)
2 twin bedrooms
1 service bedroom with 2 individual beds
Bathrooms: 4
Facilities:
Kitchen
Heating - Floor heating with 8 individual circuits3 TV con direct TV
3 Televisions with direct TV
Internet
WIFI - 6 to 10 MB (Fastest available in Bariloche)
Washing Machine
First Aid Kit
Dishwasher
Mircrowave Oven
Iron
Refrigerator With Freezer
Coffee Maker
Water Heater
Parking
Fire Stove
Inside Grill With Wooden Bar
Outside Grill With Park Table
Garden With Grass Lawn And Local Plants
Fire Extinguisher
Cleaning Service: 
When you check in, you will receive a full set of bed linen. These will be changed according to the length of your stay.
Pets are not allowed.